A few weeks back I published a quick review on this fixed focus shooter from the might Olympus, but how is it faring as time goes on ?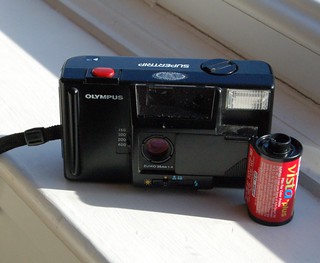 Actually quite well but there are a few niggles. It has turned out to be not that bad a shooter despite it's ugly styling. Olympus have a nack of making good fixed focus compacts with good optics like the PEN EE-2 and the Supertrip clearly has benefitted from that. Obviously it is nowhere as competent as the PEN series cameras having no exposure control other than changing the aperture to match the film speed.
But in good conditions the Zuiko 35mm 1:4.3 lens is sharp at 400 ISO and 200 ISO. It's more able than the Kodak 35EF at the lower speed. Like the 35EF you can cheat with 400 ASA in low light by dropping the film setting opening the aperture up a bit more. You'll need to do this as the low light warning as common with all of these flash fixed focus numbers kicks in around EV100 12. As is common though you don't actually need batteries to use this camera
So for such a junk camera it isn't that bad. It is a better all rounder than the Kodak 35EF. It is pretty sharp and is a match for the Goko UF and has the added flexibility of more ISO speeds and a way of tweaking the aperture. The Pentax Pino 35 does pip it due to its wider exposure range but optically on a good day the Olympus has the edge.
My earlier review details the stats and other stuff for this little number